L. Glaser, S. Fiedler, G. Johannsen, P. Imperia, W. Wurth and M. Martins
Magnetism and reactivity of supported cluster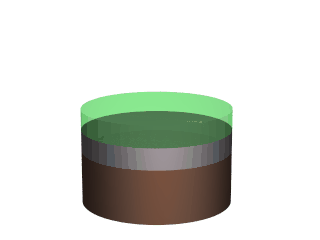 Clusters represent a new class of materials with properties between those of the free atoms and the respective solids. Besides the new and interesting physical effects which can be observed for clusters, they also have an enormous technological importance, e.g. for the realization of electronic and magnetic nanostructures. Recent experiments on the magnetic properties of free transition metal clusters show for example a pronounced size dependence of the magnetic moments of the clusters.

However, for possible applications it is important to deposit the transition metal clusters on a substrate. For a detailed microscopic understanding of the properties of deposited clusters it is necessary to size-select the clusters prior to deposition. Experiments on well-defined, mass-selected clusters after deposition on a substrate require furthermore that the cluster size does not change during or after deposition. Up to now there have been only a few attempts to study clusters under such well-defined conditions spectroscopically.
We have developed a transportable (and synchrotron compatible), UHV cluster source which enables us to perform core-electron spectroscopy on well-defined, mass-selected, in-situ deposited metal clusters (n < 20; n number of atoms). The clusters are produced in a sputtering process, mass-selected with a magnetic mass spectrometer and finally deposited under soft-landing conditions (in an Ar-matrix) on a single crystal substrate.
"Soft-landing"
Our experiments on Fe, Ni, and Cr-clusters show that we are able to soft-land small clusters on a substrate and investigate them with inner-shell spectroscopies. It has been possible for the first time to spectroscopically identify small deposited clusters using near-edge x-ray absoprtion spectroscopy. For iron-clusters we have been able to show that for fragmentation-free deposition about 10-15 layers of Ar are necessary. Deposition in thinner Ar-layers leads to fragmentation of the smallest clusters upon deposition.
Cluster-substrate-interaction
Besides the soft-landing the cluster-substrate interaction plays a decisive role for the controlled deposition of size-selected clusters. The thermal stability of the deposited clusters against fragmentation and/or agglomeration caused by diffusion is different for different cluster-substrate combinations. While small iron clusters on an oxygen precovered Ru-surface are only weakly bound and show surface diffusion already at room temperature Ni-clusters on the contrary are stable on the same surface up to 800 K. Exceptionally strong cluster-substrate interaction is observed for Cr-clusters on oxygen covered surfaces. The Cr-clusters couple already at low temperatures (< 100 K) strongly to the adsorbed oxygen leading to Cr2O3-like signatures in the x-ray absoprtion data. In general the clusters show size-dependent differences in stability. For example heptamers which may be envisioned as magic clusters in two dimensions exhibit fairly high thermal stability.
Reactivity
In first experiments on the reactivity of deposited transition metal clusters we have investigated the interaction of deposited Ni- and Cr- clusters with oxygen. After deposition of the clusters on a clean metal surface the clusters were subsequently exposed to a few Langmuir of oxygen. For Cr as well as for Ni we see an energetic shift of the x-ray absorption resonances upon oxygen adsorption. However only for the Cr-clusters complete oxidation independent of cluster size is observed (see above).
Magnetic properties
Recently we have started to investigate magnetic properties of deposited transition metal clusters. In these experiments which have been performed at BESSY II in Berlin we have deposited iron clusters on ultrathin Ni-films which have been epitaxially grown on a Cu(100)-substrate and remanently magneitsed afterwards. X-Ray absorption experiments with circularly polarised light (XMCD) at the Fe-L2,3-edges show that the clusters are ferromagnetically coupled to the substrate. The pronounced dichroic signals can be used to study size-dependent magnetic moments of the clusters.